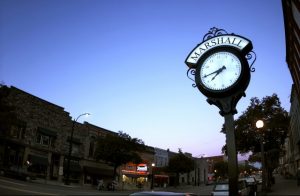 Date
Tuesday, June 23 – Friday, June 26
Host Hotel
Hampton Inn, Marshall, MI
Alternate hotel location
Holiday Inn, Marshall, MI
Michigan is pleased to host the GOF Central 2020 in Marshall, Michigan. Our host hotel will be the Hampton Inn, conveniently located at I-94, exit #110.
The hotel is just outside the historic downtown. Marshall is a fantastic 19th century city, with hundreds of well-preserved homes and a downtown core. There is ample parking onsite with trailer parking available across the street.
Lodging
A variety of rooms are available and additional days at discounted rates are available to those wishing to arrive early or stay later. Mid-week schedule allows weekend "travel days" on either side of the event. In the event that we fill our host hotel, Hampton Inn, there is additional lodging at the Holiday Inn 300′ away. Rates are $139/night for a king room or for a double-queen room. Tax extra. Breakfast is included. Call 269-789-0131 and mention GOF2020 to get the the room rate. If you have Hilton Honors, be sure to mention that as well.
Your Michigan vacation
Make it a whole week! Just prior to GOF Central, visit the Motor Muster at Greenfield Village in Dearborn, MI June 20-21. Motor Muster is one of the nation's premiere car shows, featuring preserved and unmodified vehicles from 1933-1978. We will have preferential treatment and the chance to participate in the show. More details available soon.
Events
A wide variety of events are planned including a first timer's show, movie night, swap meet, auction, tech sessions, cocktail hour & banquet at Win Schulers in Marshall. There will be valve cover racing, so bring your VC car! (Download the rules here.) Our premiere event will be held at the incomparable 90 acre Gilmore car museum a pleasant drive from the hotel. There we will have our car show, you can tour the museum's collection and participate in the funkhana on their oval track.
Local extracurricular activities
Wide range of dining, shopping, sightseeing, gas station and magic museum, and riverwalk in Marshall. Interesting towns a short drive away. Indoor pool and exercise room at the hotel. 24 hour 50's themed Dennys diner at host hotel.
Fun facts
Our drive to the car show is on rural, pleasant roads through woods and fields.
Marshall is 108 miles from Detroit and Toledo, 180 miles from Chicago, and 200 miles from Indianapolis.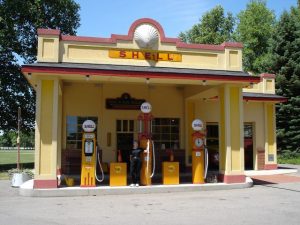 Gilmore Auto Museum features exhibit buildings for their 300+ vehicle collection designed to look like old car dealerships.
The 1930's Shell station at Gilmore makes for a great photo backdrop.
Registration
Choice of 2 registration options:
Full registration (up to 2 people and car): $75
Partial registration (up to 2 people, no car): $55
All registrations include:
Full-access badge to all events, tech sessions
Gilmore museum admission
Commemorative pin
Photo souvenir
Hospitality room access (beer, wine, soft drinks and snacks included)
1 free raffle ticket per person with a chance to win big money!
Additional cost items:
First-timers car show BBQ: $35 per person
Cocktail hour and banquet at Win Schulers: $55 per person, cash bar.
Lodging: You must arrange lodging separately and directly with the host hotel. Rates are $139/night for a king room or for a double queen room. Tax extra. Breakfast is included. Call 269-789-0131 and mention GOF2020 to get the the room rate.
Event regalia: There will be a wide variety of items available to order during registration including hats, pins, badges, shirts, socks, etc. Some items will be available for purchase at the event, but quantities will be limited.
Download this registration form to mail in your order and pay by check.
To register online, click below. (A 3% transaction fee will be applied to online purchases )
If you've already sent your registration information and just want to visit the event store, click here.
Questions?
Contact Meet Chairman Ken Klemmer at 248-444-4096